Not just a drafting software, HighDesign is a new digital design environment on your desktop. Whether you are an architect or a product designer, or you want to design your new house, HighDesign helps you pursuing your ideas by providing powerful drawing and editing tools with a friendly interface.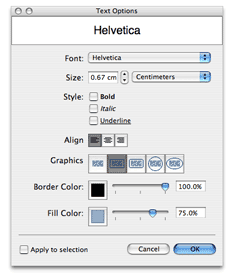 Drawing Tools
HighDesign provides you with an extensive tool set that significantly reduces the distance between your ideas and their accomplishment. With over 35 drawing tools, HighDesign includes powerful, advanced functions to draw shapes, hatches, symbols, walls, doors and windows, etc. All tools have the general properties, and some tools have more options for setting specialized attributes.
General tool options are:
Color: each drawing object can have its own color from a table of 256 colors, plus it can get the color from its layer. Layer colors can have millions of different tones.
Linetype: you can set the linetype of any object by choosing an item from the pop-up menu. HighDesign comes with over 45 built-in types, plus all the new types you can invent.
Penweight: 15 different pens, ranging from 0.07mm (0.0028'') to 1.05mm (0.042'')
Editing tools
Flexibility in HighDesign means allowing the user not just to add new items to a project, but also to modify the existing ones and create new complex shapes from a base layout.
The editing tools of HighDesign provide many functions to modify the drawing and perform complex actions with just a few clicks. These tools are accessible through menu items, contextual menus, keyboard shortcuts and toolbar icons.

Advanced Functions
HighDesign's feature set includes more specialized tools to speed up the design process and quickly complete complex or time-consuming operations.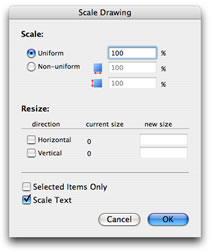 Tools available to both Standard and Professional:
Fillet: joins two lines with an arc of given radius
Chamfer: joins two lines with a segment
Offset: creates a concentric duplicate of the objects
Explode: converts an object to its base components
Convert To Polygon: converts lines to a polygon object
Hatch Selection: applies a hatch with the current properties to the selected polygon or polyline
Calculate Area: returns the area of the selected region
Find Center of Mass: creates a point located in the center of mass of the selected polygon
Find Tangents to Two Circles: finds four tangent points between two circles
Scale Drawing: applies uniform or non-uniform scaling to the selected objects